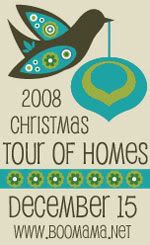 It's BooMama's Christmas Tour of Homes, so I want to take you on a very short tour of my Christmas Decor. Come on in the front door (complete with fingerprints because I want you to have the full effect)...
Say hello to Santa and Mrs. Claus. They welcome you to our home where they sit atop the piano and cheer for our Dawgs (next season). Ahem!!!
Stop by the kitchen table for a snack.
The Man is making Stadler Christmas Candies in the kitchen (recipe below).
Or enjoy some Ranger Cookies (recipe below) or Muffins as you gaze upon our Christmas Tree in the Morning Room.

Don't forget to check out the boys' homemade nativities from last year's Happy Birthday Jesus Party. And visit us next week to see this year's homemade nativity.

Take a glance at our Christmas cards on the basement door that is covered in wrapping paper, and then...

...have a seat in front of the fire place and enjoy some homemade hot cocoa (recipe below).



Here are the recipes:
Stadler Christmas Candies:
1 stick butter, softened
4 cups confectioners sugar
1 cup coconut flakes
1 qt nuts, chopped
1 small can sweetened condensed milk
2 bags semisweet chocolate chips
Mix ingredients together, excluding chocolate. Make into 1 in. balls. Melt chocolate in microwave and dip balls into chocolate thoroughly coating each candy. You may add parafin wax to your chips help the chocolate adhere to the candies. Dry on wax paper.
Ranger Cookies:
1 cup (2 sticks) Butter
1 cup Sucanat w/ Honey
1 cup Sucanat
2 Eggs
1 teaspoon Vanilla
2 ½ cups Soft Wheat Flour
1 teaspoon Baking Soda
½ teaspoon Baking Powder
½ teaspoon salt
2 ½ cups Rolled Oats
½ cup Shredded Coconut
½ cup Chopped Nuts
Preheat oven to 350.
Cream butter, sucanat w/ honey, and sucanat until creamy.
Add eggs and vanilla; beat well.
Add combined flour, baking soda, baking powder and salt; mix well. Stir in rolled oats, coconut and nuts; mix well.
Drop dough by heaping tablespoonfuls onto an ungreased cookie sheet.
Bake 10-12 minutes or until light golden brown. Cool 1 minute on cookie sheet; remove to wire rack. Cool completely. Store tightly covered.
Makes 2 dozen large cookies.
Stovetop Hot Cocoa
Mix 1/2 cup sugar (I use sucanot a brown sugar equivalent), 1/4 cup of unsweetened cocoa, and a dash of salt in saucepan. Add 1/3 cup water and heat over medium until mixture boils for about 2 minutes, stirring constantly. Then add 4 cups whole milk and heat until almost boiling. Remove from heat and add 1tsp vanilla.
Serve with cinnamon sticks, peppermint sticks, marshmellows or whipped cream and sprinkles. Caramel makes this an extra special treat as well. See previous post for salted caramel hot chocolate recipe.

Merry Christmas!
In joy, Troye